About El Muerte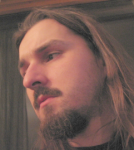 Real name:

Michiel Hendriks

Contact:

elmuerte at drunksnipers . com

Also known as:

El_Muerte_[TDS]

UnrealWiki page:
Short biography
Programmer, WebDesigner (or rather WebDeveloper), Game designer/programmer, ...
... pending, check my wiki page for a bit of bio ...
Professional work experience
Epic Games, Inc.
Contracted programmer to implement the single player ladder system for UT2004.
Rename-it
Initially contracted webdesigner/webdeveloper for "Orkest van het Oosten" and "Tandartsassistent plus". Since 2003 partner in crime in providing professional webhosting, webdevelopment and ICT solutions.
Henrico & Partners B.V.
In-house ICT consultant, developer (website and their flag ship tool TPA2).
Also did some contracted work in name of this company.
Additional experience
I've been programming in different programming languages for at least 10 years now (since 1993 I think), and I've creating webpages since 1997.
Since then I've created numerous applications, tools and websites.
Ever since Unreal Tournament was released (1999), I've been playing around with UnrealScript to create mods for the game.
Known programming languages

Pascal (mainly Delphi\Kylix), C\C++, PHP, Perl, UnrealScript, Java, SQL92 (if you can even call that a programming language)
(Other languages I don't consider worth mentioning)

Known internet standards

HTML\XHTML, CSS, WML, XUL, RSS, HTTP, IRC, Telnet, TCP/IP

Experience with

MS Windows, GNU\Linux (mostly Debian), Basic UNIX enviroment, MS Office (or any office suite since they are all pretty much the same), Mozilla, Borland Delphi, MS Visual Studio 6\.NET 2003, Macromedia Fireworks, Adobe Photoshop (I am not an artist), Apache, MySQL, PostgreSQL, UnrealEngine1/2
...
Interests
Game development
Webdesign/development